The Magical Areca
By Kajal Baid
You must have heard of two prominent uses of Areca; Area nuts and Areca palm leave dinnerware. But this tree has got countless usages as well. Not only the tree and leaves can be put into many uses, all if its components can be used in manufacturing huge variety of products. Here is the list of all its components and their uses: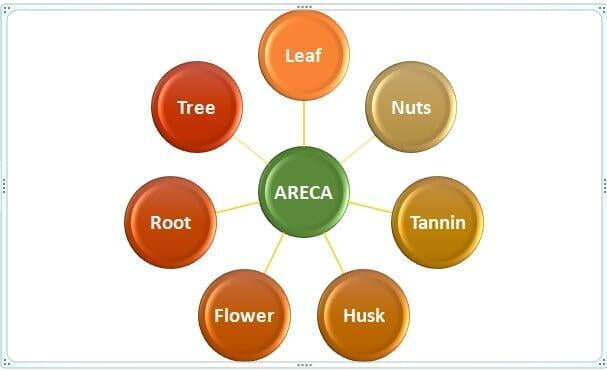 Areca Leaf
Apart from the sheaths used in making plates and bowls, areca leaves can also be used for making straws and lids. Since they contain no chemicals and are 100% natural, they can hold your food for a longer time and can carry up to 2 kgs of weight. Some of other uses of areca leaves are:
1. Paper Boards: The combination of sheaths and waste paper is used to make strong and durable boards and have more resistance to water absorption.
2. Dry Fodder
3. Fire Wood
·
Areca Nuts
Did you know that India is the largest manufacturer of Areca Nuts? Indian manufacturers export Areca Nits to USA, UAE, China and Indonesia to name a few. Other prominent uses of areca nuts are:
1. Sweet and masala roasted supaaris
2. Chewing gum
3. Mouth Freshener
4. Baby toys, garland showcase pieces
5. Useful in extracting liquor
· Tannin
Tannin is obtained as a by-product from the process of preparing immature areca nuts. Health problems arising from consumption of areca nuts have led to its maturity in the market; hence global demand for tannin is expected to rise in future. Various uses of Tannin are:
1. Dyeing clothes
2. Tanning leather
3. Adhesive for manufacturing ply boards
4. Safe food colouring agent
·
Areca Husk
It is an agricultural by-product, extracted from the outer cover of Areca fruit which forms about 50-75 percent of the total volume and weight of the fruit. Earlier, it was considered as a waste but when researchers tried to find out about its properties, following uses emerged:
1. Herbal tooth brushes
2. Processed fibre from the husk can be used for making pillows and beds
3. Hard boards and soft boards
4. Craft paper
·
Areca Flower
Areca flower, also known as Pingara flower have a unique feature; they get greener as they mature. They are used for all events from marriage, Nagamandala, Nagarapanchame, Kola, nemotsava or any auspicious ceremonies. It is considered as an auspicious ingredient in various rituals.
Areca is also used for certain medical purposes. It can be used for treatment of a mental disorder called schizophrenia and an eye disorder called glaucoma. In veterinary medicine, an extract of areca is used for expelling tapeworms in cattle, dogs, and horses; to empty animals' bowels; and for treating intestinal colic in horses.